Should We Make Any Changes? Smith?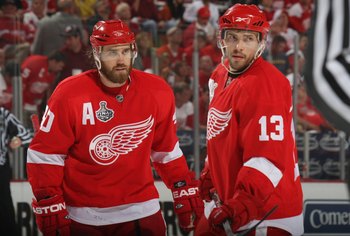 Detroit is down, but not out. Ask SJ about that last year. Yeah, that's right.
This team has the firepower and the willpower to overcome their slight deficit in the standings at the moment.
But do you think we need to make any changes? I wouldn't mind seeing one or two.
Hit the jump for my ideas
.
Right away, I think you put in Conner for Emmerton. I've never thought much of Emmerton and Conner can proved a little more grit than #48. I doubt it will happen, but I think it's a move you have to make.
Second, I'd like to see Smith for Quincey. Again, this isn't likely, but I think whatever Quincey adds offensively, Smith adds more. Plus Smith is fiestier and gritter. And it's not like Quincey is a dominate force defensively, I'd actually say he's the worst of the six.
Other than that, I think you need to think about reuniting the Zetterberg Datsyuk connection. Put Franzen on a line with Fil and Bert and throw Nyquist with Dats and Z.
Simply put, I think we need to make a few changes, not huge ones, but ones enough to keep 'em guessing.