Why Not Ilari? Plus Grand Rapids Update.
Jan Mursak
again from the AHL. He did a good enough job during his past call-up; he was solid, but really didn't stand out in any way. I don't want this to be taken as hating on the guy.
Yet two forwards who have been just as successful, if not moreso, than Mursak, have been waiting down in Grand Rapids all season for that call. I'm referring to big brother
Ilari Filppula
and Griffins captain
Jamie Tardif.
Ilari leads GR in points this season with 44. The two games I've been able to get to, he's been the one player that really stands out with his play.
Tardiff has had a breakout season, leading the team with 21 goals and has 36 points. Tardiff already has more points than he ever has in his five seasons with Grand Rapids and is considered a hard nosed, tough gritty forward.
I'd love to see how either of these two would do in Detroit for a game. So why Mursak again?
---
In other GR news,
Tomas Tatar
, someone who's been considered a one way player has 41 points in 48 games and is an amazing
+17
. For a team where most players are minus players, that's amazing.
Jordan Pearce
has done a great job since MacDonald got the call-up. In 20 games he's 9-5-5 with a .911 SA%. Not bad considering Joey Mac has a .894 and Thomas McCollum, who's
still injured
been sent down to the
ECHL so that he can get playing time
(thanks to Rob in the comments for that catch), has a pretty crappy .881. Does he jump in front of McCollum on the depth chart? At least for the moment, it looks like he has.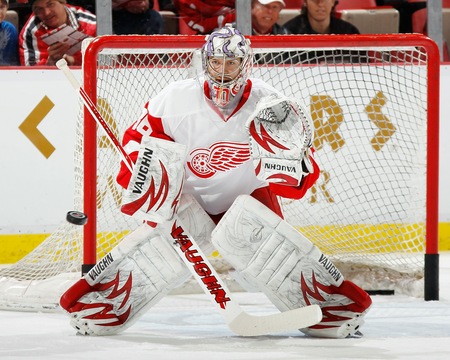 Eaves is hurt and we've brought up