REVIEW: Bob Probert's Tough Guy: My Life on the Edge
One of the all-time greats, Bob Probert wrote a book; One of our best commenters here at NOHS, Twig, read and reviewed the book and sent us his review to share to the world. Here it is: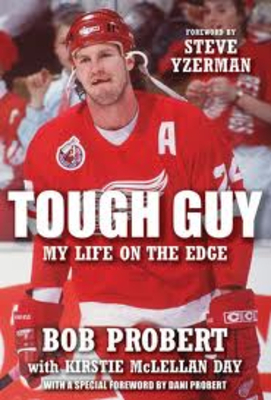 Bob Probert's Tough Guy: My Life on the Edge (Spoiler Alert)
I'm not an avid reader by any means. This line from Airheads describes me perfectly:
"67 copies of Moby Dick."
"The book or the movie?"
"They made a book out of that?"
But I had to read Bob Probert's book. Partly because of his death, but also because I had to see if it was his own words, or clean cut and heavily edited by the author.
It's Probie all the way.
If I had to use only one word to describe this book, it would be 'Honest.' Probie mentions that he wanted to get this book out there so he could tell his side of the story of his life for his kids' sake. He holds nothing back. Stories about fornication, adultery, alcohol and drug abuse; all laid out in front of you. Even a few accounts of Red Wing fans calling him a disgrace and the way those few instances weighed at him. So many books about athletes are told from a third person perspective and leave out their feelings or opinions of a fellow teammate or coach. Not this one. Probie makes it crystal clear who he likes and doesn't like and why.
The first chapter is the last day of his life and it's completely soul crushing. You see the situation unfolding from his wife's perspective. All the details from Probie muttering incoherently as he lay on the floor of his boat, to his kids watching him lose his last fight. Like I said, it's a crushing chapter.
After that, Bob takes over and walks you through his teenage years, getting drafted by the Wings and then the ultimate turning point in his life: the day a teammate offered him cocaine. You read about his time in prison, his numerous visits to rehab, his love for blonde women and of course, his many epic fights on the ice.
Other than his death, the hardest part of the book was his decision to sign with Chicago. He was willing to take a hometown discount to stay in Detroit, but the Wings requested too much of a discount, so that was it. It was cool to see him turn down an offer from St. Louis that was double even what Chicago offered, though. No one likes the Blues.
Oh, and Bob Probert confirms what we already knew: Gary Bettman is an asshole. That should be reason enough to read the book. You'll have a hard time putting this one down once you get started, but it's worth it.
---
Thanks to Twig for putting together a great review. Check the book out here.