Hulktuzzi - Photoshop of the Week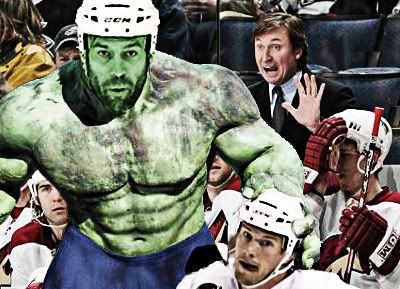 The Gretzky in the background makes it even better. Love the 'tuzzi.
Reminds me of Franzen Smash!
Both are great, but my favorite is, and always likely will be: "When Hudlers Attack." I wish I knew who made this great great photoshop. I'd hang this on my basement wall if I could.
If you find or make a great Wings photoshop, send it (with credits) to This email address is being protected from spambots. You need JavaScript enabled to view it.
m
and we'll post it up with full credit. Maybe we'll even do some sort of contest for the best photoshop of the year.
Go Wings!
(BTW, there's a problem with Bloguin right now where it says no comments even though there are comments in a post. So just a FYI. I love the new system though, seems to give comments a much better flow. I think they'd be perfect for a live blog if anyone was interested...)
Just emailed over a bunch that we have made into posters and taken to the game...I also have no idea how to post them here!
You really will find any any reason to post that Happy pic, a live blog would be sweet and would be in... I couldn't figure out how to post an image here so I emailed it, it's pretty weak but I'm a talentless hack so...
Anyone got any good photoshops? Shoot an email or post em here.

I love a good Wings photoshop. Who doesn't? So I thought I'd share one I found this week which I love - full credit goes to the awesomely named "Deathtothehawks" over at KK: