Should Osgood's Shot Already Be Over?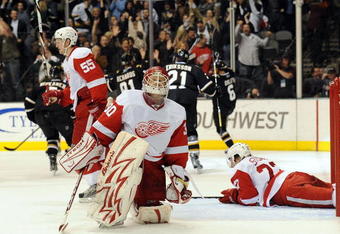 Rob Otto of Mlive thinks so.  For his first piece of the season on the Wings, he served up this negative little piece:
In a 4-1 loss in Dallas, Osgood allowed four goals on nine shots in the first two periods.
Four.
Nine.
Any questions?
Think the goals weren't his fault?  No excuse according to Otto.
Oh, I already hear the Ozzie apologists chirping in: "Those goals weren't his fault. They came through traffic. It went off a skate. There was a turnover right in front of him. The defense let him down."
Wake up.
At some point, no matter what is happening in front of him, a goalie needs to make an unbelievable save to keep his team in the game. It happens every night in the National Hockey League. If the only way Chris Osgood can win games is if his team plays perfectly in front of him, then he should not be on the ice.
Now even though I struggle with these sportswriters who become experts after watching one game, I do agree with him on this.  Osgood has got to make some of those saves last night. Not because they were soft goals-they weren't really.  No, because he had a chance to stop them and he's an NHL goalie and that is what NHL goalies do.   He needed to make two more stops than he did last night and anything less is unacceptable.
Otto then returns to a lazy, tired point about how this one game somehow negates any HOF argument for Osgood, but finishes with this ditty:
Certainly you can try to look at this one game as an aberration, but we have seen this kind of stuff from Osgood far too often.  Don't you still hold your breath the last minute of every period when he is between the pipes because you know there is a good chance he'll let in a soft goal?  Every long slap shot from the blue line he has to stop still makes me cringe.
Jimmy Howard is this team's netminder. Chris Osgood had his time as a starting goalie here in Detroit. Now he justs needs to find a nice, comfy spot on the Red Wings bench and stay there.
Now this shows again how little Otto knows.  Howard is the starting goalie and noone believes otherwise.  We simply need some solid games out of ol' Chris.  He's 1 for 2 this year and we need better than that.